Wellness oasis at Hotel Montana in St. Anton
Your source of relaxation and energy
With our "Montana Vital" wellness oasis, we have lovingly created a small, refined realm where our guests can relax, unwind and recharge their batteries. You will find your wellness bag with fluffy bathrobe and slippers in your room, ready for your wellness break.
Relax at the Montana Vital after a day of hiking or skiing, before rounding off the evening with a nice glass of wine and fine dining. We will also be happy to pamper you and your tired muscles with a soothing massage.
Montana Vital – small, exclusive wellness oasis
Sauna/bio-sauna & steam bath
Unique open-air atrium
Infrared light cabin with deep penetration
Well-appointed relaxation room to chill out in
Ice fountain, drinking fountain & adventure shower
Top sports & relaxation massages
Immerse yourself in pure well-being
Sauna area
Taking a sauna is particularly cosy in our rustic "Stubensauna" (as a bio-sauna or Finnish sauna). An infusion with mountain herbs turns the hot relaxation session into an Alpine wellness experience. In our steam bath (45-55 degrees) you will be surrounded by pure water vapour that cares for your skin down to the pores. Our infrared light cabin is the gentlest temptation – ideal after a day of mountain sports! At a pleasant 35-40°C, the heat of the infrared light penetrates deep into the tissue.
Relaxation room & open-air atrium
In our beautiful relaxation room, it is easy to immerse yourself in relaxation and forget your worries and cares. Our extraordinary green open-air atrium with a view of the mountains invites you to take a deep breath, breathe easy and recharge your batteries. The fresh mountain air is ideal for cooling the respiratory tract between the sauna session and the rest period.
Saunas & vitalisation
Tips & opening hours
Tips
Allow yourself at least 15 minutes' rest between sauna sessions.
Use the infrared light cabin for about 30 minutes after a long day of skiing, hiking or biking. The deep heat, which is easy on the circulation, gently counteracts muscle tension and joint inflammation.
Glacier-cold crushed ice from the fountain gives you a vitalising boost after your sauna session.
"Arlberg rainy weather" can be wonderful – if it comes from our adventure shower. Or choose a power shower or side jets.
Montana Vital opening hours
In winter daily from 3:00 p.m. to 8:00 p.m. (earlier on request).
In summer on request (daily from 4:00 p.m. to 8:00 p.m.). Please let us know half an hour before your desired wellness session.
Massages – from magical hands with a profound effect
Our guests wax lyrical about our massages. You too are welcome to take the opportunity to be pampered by our professional masseuse during your holiday in Arlberg. Whether a pure sports massage to relax your muscles after a day's skiing or a hike, or a massage to soothe your soul: the treatment will do you the world of good! And the ethereal scents intoxicate your senses...
Opening times & appointments
The massages take place on Mondays and Thursdays. Simply come to reception to make an appointment. Or, even better: reserve the massage you want when booking your holiday.

Massges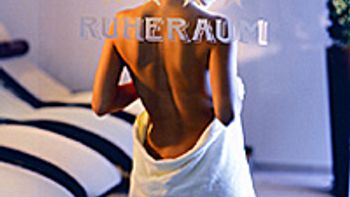 A massage releases painful muscle cramps and promotes mental relaxation. With this pleasure you give yourself a new attitude to life full of energy and vitality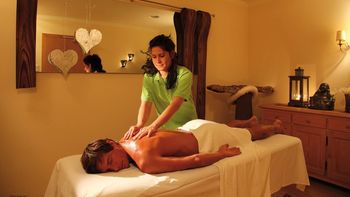 relieves tension, loosens the muscles.
Arlberg WellCom – wellness centre and swimming pools
Would you like to take your wellness holiday to the next level? Only a three-minute walk from the Hotel Montana you will find Arlberg WellCom – a state-of-the-art wellness centre with a wide variety of saunas and steam baths, with indoor and outdoor pools and a fitness centre.